WHAT IS TWISTER 54MM?
It can be used as primary reinforcement in concrete,
High strength, polymer based,
It provides crack resistance and load bearing with two different materials in its composition,
It is a long-lasting, Synthetic Macro Fiber Reinforcement.
Twister is homogeneously dispersed in 54 mm concrete, providing the desired concrete appearance and strength during and after pouring, with minimum labor and cost, and offers ease of application to projects.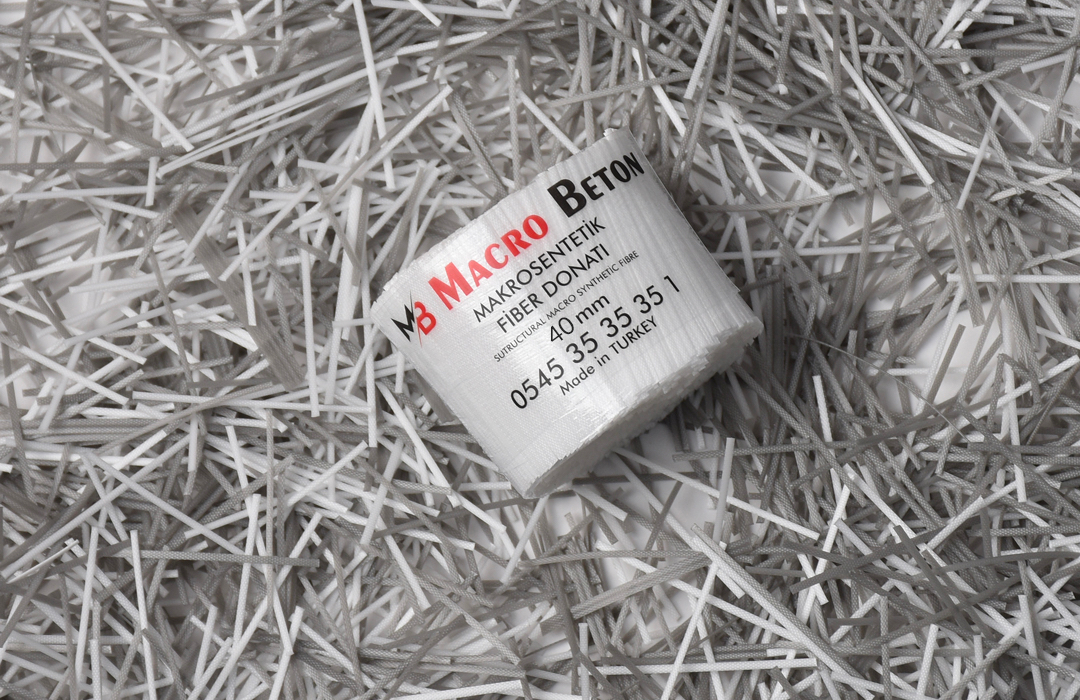 It contains;
Thanks to the single fiber copolymer structure it contains, it prevents load transfer and crack formation arising from internal stresses, and increases tensile strength in bending and splitting.
In addition to the copolymer structure, shrinkage and heat-related cracks are prevented thanks to the polypropylene fibers in the mixture at a special rate.
TWISTER CONCRETE 54 MM
USAGE AREAS OF MACRO SYNTHETIC FIBER REINFORCEMENT
Field and Ground Concretes
Factory Floor Concretes and Stock Areas
Cold Storage Floor Concretes
Logistics Bases
Topping Concretes
Fuel Stations
Metro Stations Waiting and Walking Areas
Concrete Roads
Housing Construction
Residential Screeds
Open-Closed Car Park Ground Concrete and Other Traffic Areas
Landscaping and Walkways
Outdoor & Indoor Pool Concretes
Coastal Structures and Harbors
Marine Port Concrete Coatings
shipyards
marinas
Piers and Docks
Coastal Protection Elements
Dalgakıran Concrete Coatings
Water Structures
Hydroelectric Power Plants (HEPP)
Drinking Water and Sewerage Projects
Irrigation Projects
Hydrology and Flood Studies
Channel Structures
Precast Elements
Concrete Pipes
Concrete Blocks
Retaining Walls
segments
Highway Curbs
Liquid Tanks
Facade Panels
mines
Ground Stabilization Shotcrete
Mirror – Transition and Landing Road Concretes
Factory Floors
Underground Rooms
Ore Pits Filling Kits
tunnels
Ground Stabilization Shotcrete
Filling Shotcrete
Tunnel Base Coating Concretes
Invert and Full Height Concrete Coatings
Tunnel Segment Coatings
Stabilization of Slopes

TECHNICIAL SPECIFICATIONS
| | |
| --- | --- |
| Characteristic | Material Feature |
| Raw Material | 100% Pure Copolymer PP/PE |
| Length | 54mm |
| Tensile Stress | 550 - 750 MPa |
| Modulus of Elasticity | 5.75 GPa |
| Surface Texture | Deformed Surface |
| Fiber Count | 220.000 Pieces/kg |
| Intensity | 0.91 g/cm3 |
| Melting point | 162-168 °C |
| Combustion Point | 398 °C |
| Water Absorption | None |
| Acid / Alkali Resistance | Perfect |
| Standard | ASTMC-1116 |
DOSAGE and USE
Twister 54 mm has dosages varying between 1-10kg/m3 in different applications. Twister 54 mm is often used in the dosage range of 2-4 kg/m3 under average soil conditions and average loads of shotcrete and ground concrete.
For a homogeneous mixture, it is sufficient to add Twister 54 mm to the concrete mixture by placing it on the aggregate band in the concrete plant.
If it is desired to be mixed at the construction site, it is recommended to add it to the transmixer at the specified dosage and mix for a minimum of 5 minutes. After this period, a homogeneous mixture is obtained and applied to the field without the need for any operation other than the standard concrete casting application.
TECHNICAL ADVANTAGES
It prevents shrinkage cracks and microcracks.
It has high energy absorption capacity.
It increases the fatigue resistance and ductility of concrete.
It reduces surface wear.
Increases impact resistance.
It provides high bending and splitting tensile strength.
It works in 3 dimensions, undertakes the task of pressure reinforcement against negative moments on the surface.
It increases durability by not being corroded.
It gives extra resistance to the concrete weakened by freezing and thawing.
It ensures that the concrete, which decomposes in acidic and salty environments, stays together.
Increases fire resistance.
It provides the concrete to gain elastoplastic behavior.
It has a high brittleness rate.
Thanks to its fringed structure, it has a superior adherence ability than other fibers.
COST AND APPLICATION ADVANTAGES
It provides an advantage in terms of workmanship during application.
Time loss during the assembly of the steel mesh is not experienced with Twister 54 mm.
The purchasing cost is more advantageous than steel mesh and steel wire.
Since rust is not used, the floor thickness is reduced.
Non-corrosion extends service life and maintenance periods.
It is not damaged during stocking and can be stored for a long time.
TWISTER 54 MM PROVIDES RESISTANCE TO RESTORATION CRACKS
One of the most negative factors that reduces the strength of concrete is shrinkage. Shrinkage, which means the shrinkage of concrete, brings with it superficial or deep cracks in the concrete. Expansion or contraction, swelling, creep and shrinkage caused by thermal effects are the main events that cause early volume changes in concrete.
TWIST 54MM
It creates resistance to shrinkage stresses.
It minimizes the amount of cracks formed due to shrinkage.
It is homogeneously dispersed in the concrete and adheres to the concrete very strongly.
It confronts the crack at the first moment and prevents the crack from progressing.
TENSILE TESTS IN BENDING AND SPLITTING
ISTANBUL TECHNICAL UNIVERSITY BUILDING MATERIAL LABORATORY
Concrete prism samples of 150x150x600 mm, belonging to C30 concrete class, containing Twister 54 mm brand, copolymer/polypropylene carrier synthetic fiber (54 mm long) and steel wire from another company (60 mm length, 0.75 mm diameter, hook end) were produced. In addition, 150x150x150 mm cube samples were produced to determine the split-tensile strengths. In order to compare the performance criteria of these concretes produced using copolymer/polypropylene carrier synthetic fiber and steel wire, witness samples belonging to the same concrete class were produced and bending and splitting-tensile tests were carried out. Obtained results are given below.
PRISM EXPERIMENTS
Closed-loop deformation-controlled one-third load bending tests were conducted on concrete prisms produced using compositions with constant cement content, water/cement ratio and workability (10-12 cm slump). The definition of the samples, the experimental setup and the results obtained are given below.
Test Samples
Each sample is prism-shaped, measuring 150x150x600 mm.
The experimental setup
The experimental setup of the samples placed in such a way that the distance between the supports is 450 mm is given in the figure.
Concrete Prism Experiment Setup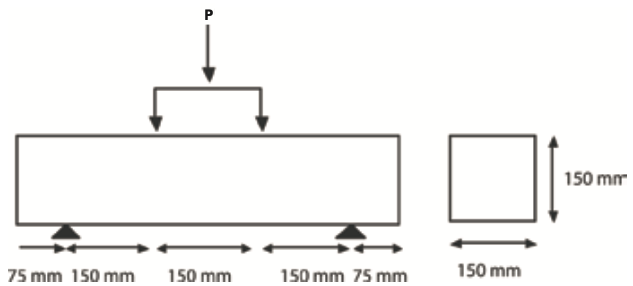 BENDING AND SPLIT EXPERIMENT RESULTS
Bending results and split-tensile test results on concrete prism and concrete cube specimens are given in the table below.
Average Flexural Strengths
| | |
| --- | --- |
| SAMPLE CODE | AVERAGE FLEXIBILITY STRENGTH (MPA) |
| Witness | 3.62 |
| 2kg/m3 Twister 54 mm | 3.63 |
| 4kg/m3 Twister 54 mm | 3.79 |
| 6kg/m3 Twister 54 mm | 4.11 |
| 20kg/m3 Steel Wire Reinforcement | 3.63 |
| 30kg/m3 Steel Wire Reinforcement | 4.06 |
Splitting - Tensile Strengths
| | |
| --- | --- |
| SAMPLE CODE | SPLIT - TENSILE STRENGTH (MPA) |
| Witness | 3.66 |
| 2kg/m3 Twister 54 mm | 3.74 |
| 4kg/m3 Twister 54 mm | 4.15 |
| 6kg/m3 Twister 54 mm | 4.46 |
| 20kg/m3 Steel Wire Reinforcement | 3.71 |
| 30kg/m3 Steel Wire Reinforcement | 4.21 |